ABC New
By

seth borenstein, ap science writer
WASHINGTON — Dec 8, 2016, 3:46 PM ET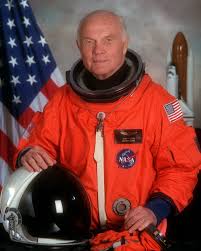 Ten notable aspects of the life of astronaut and senator John H. Glenn Jr. who died Thursday at 95:
———
ENDURING MARRIAGE
Glenn married his childhood sweetheart, Anna "Annie" Margaret Castor, in 1943. She survives him. He bought her a diamond engagement ring in 1942 for $125 and it was never replaced.
———
FIGHTER PILOT
John Glenn was a U.S. Marine Corps fighter pilot in World War II and the Korean conflict, flying 149 missions. He flew with baseball legend Ted Williams and his plane was riddled with bullets when he flew at low altitude.
{ 0 comments }