New York (CNN)An armed robbery call nearly turned deadly for two New York police officers, leading to an exchange of gunfire that ended with the officers hospitalized, a manhunt and fresh scrutiny surrounding the United States' most populated city — specifically, about the safety of police on the street.
The wounded officers, both men whose names were withheld until family members could be notified, were in St. Barnabas Hospital on Tuesday morning. One of them, who is 30 years old, underwent surgery and is in critical condition after being shot in the arm and lower back. The other, age 38, is in stable condition with gunshot wounds to the chest and arm.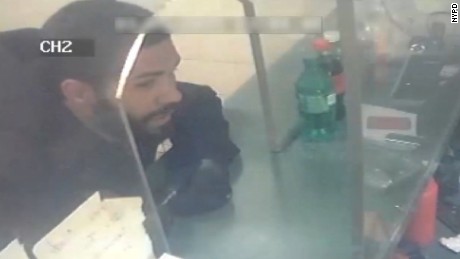 One of the suspects, as seen in a Chinese restaurant moments before the shooting
"This is another indicator of the dangers our officers face in the line of duty," said New York City Mayor Bill de Blasio, who has found himself at odds with some in his police force in recent weeks. "Thank God, these officers will recover."
Authorities, meanwhile, have yet to definitively track down those responsible.